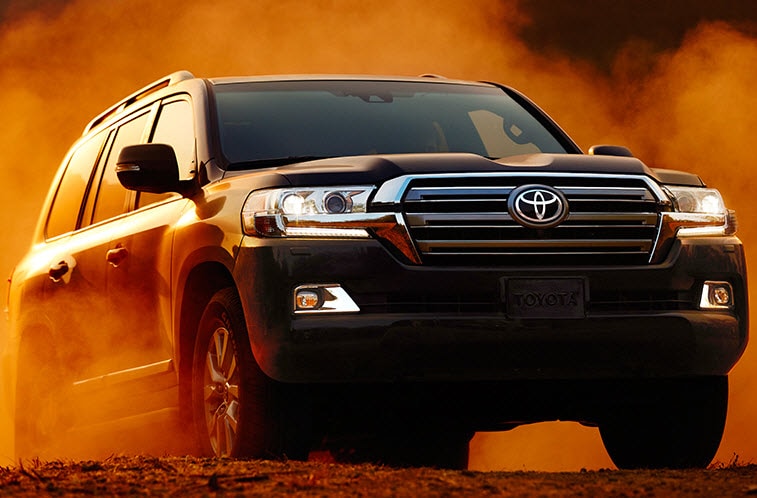 When Motor Trend conducted a recent SUV comparison featuring the Land Cruiser, judges decided on an Apocalypse theme that took them to the snowy mountains of Colorado and the craggy paths of Moab's Poison Spider trail. When put through hypothetical Armageddon scenarios, judges agreed that the Land Cruiser was the SUV they'd trust to get them to safety.
Compared against the Mercedes-Benz G550 and Jeep Wrangler Unlimited Rubicon, the 2016 Toyota Land Cruiser offered the best balance of performance on both snowy and rocky terrain. Its Off-Road Turn Assist, Crawl Control and Multi-Terrain Select features came in handy for judges in a number of cases, while the SUV's big 5.7-liter V8 engine and new-this-year eight-speed automatic transmission worked together to power the SUV through icy and rocky trails.
In the snow, drivers said the Land Cruiser "was practically a sports car" compared to its two rivals and it was the only one that didn't get dumped in a snowbank. It also impressed in the desert, leading one judge to state:
"The Toyota won my heart. The big boy was able to go every single place that the other two were. Just activate Crawl Control and Turn Assist, and the Land Cruiser locks up the inside rear tire, allowing the Toyota to nearly pivot in place," said Jonny Lieberman.
If you're in the market for a tough SUV, test out the 2016 Toyota Land Cruiser in Deerfield Beach. It's a solid choice for anyone in need of a utility vehicle that can perform with finesse on and off road.