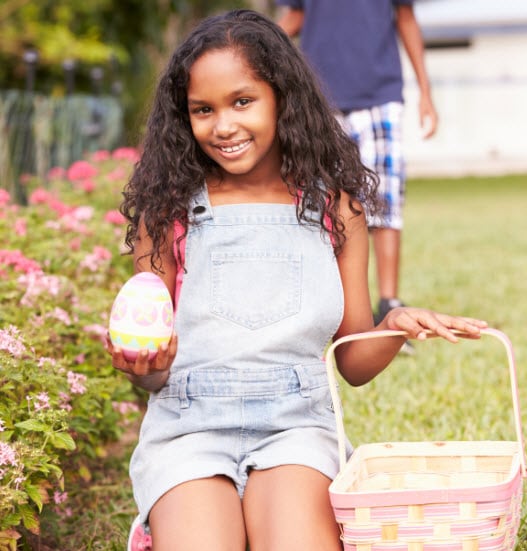 Egg-citing Easter events are happening in and around Deerfield Beach! For little ones, tweens and adults, Easter Egg Hunts are being hosted in several locations. Sweet prizes are just around the corner this March in South Florida! Check out events below.
Flashlight Easter Egg Hunt
Taking place at 8 p.m. on Thursday, March 24, the Flashlight Easter Egg Hunt offers a unique spin on an age-old tradition. While Easter Egg hunting is often a privilege only younger children get to enjoy, this special Constitution Park event is specifically held for older children, giving them a chance to take part in the fun, too. Participants can bring their flashlights and hunt down candy- and prize-filled eggs. There will be over 8,000 eggs, many of which will feature some extra-special surprises!
Adult Flashlight Easter Egg Hunt
Shortly following the event above, an adult Easter Egg Hunt will be held at 8:30 p.m. You must be 18 or older to participate in this part of the event, and make sure to bring a bag or basket along to collect your prize-filled eggs! Click here for more details about both Deerfield Beach events.
Egg-stravaganza
Taking place at Oveta McKeithen Recreational Complex, this event offers Easter Egg hunting excitement for children 10 and under. Thousands of eggs will be scattered about and filled with candy and fun prizes. Several "Special Eggs" will also be included and their collectors will receive additional prizes. The Egg-stravaganza takes place on Friday, March 25 at 6 p.m.
Easter Egg-Stravaganza
Another extravaganza is taking place at Coconut Creek from 11 a.m. to 2 p.m. on Saturday, March 26. Children ages 1-12 can take part in meet-and-greets with the Easter Bunny and collect candy-filled eggs. Just remember to bring your baskets for filling! Other family-friendly activities are included, too. Contact the Promenade at Coconut Creek for more details.
Annual Easter Egg Run & Parade
Also taking place on the 26th, the Deerfield Beach Middle School (DBMS) Athletic Complex is holding an Easter Egg Run for children ages 4-12. The Egg Run begins at 10 a.m. sharp and will be divided by age groups. Over 8,000 eggs will be ready for collecting and the Easter Bunny is making a special appearance at the event.