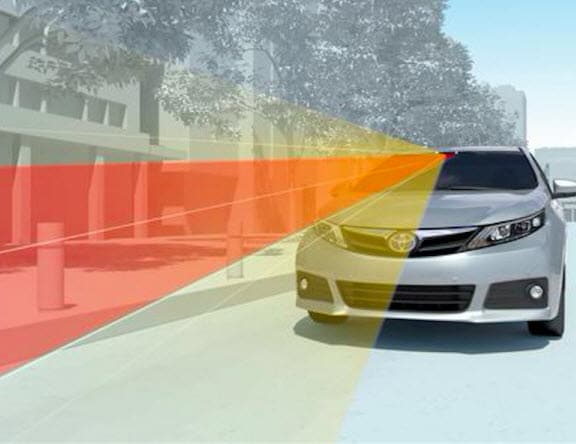 In a recent press release, Toyota stated that it plans to make automated braking standard on nearly all of its models by the end of 2017, ahead of the industry target announced by the National Highway Traffic Safety Administration and Insurance Institute for Highway Safety. By standardizing such an innovative technology, a premium safety feature will be more widely available at various price points. This means that purchasing the top trim level will no longer be the gateway to accessing top-tier safety equipment.
Toyota is ahead of the curve in standardizing its automatic emergency braking (AEB) technology, which is featured in the Toyota Safety Sense package. The industry target set by the NHTSA and IIHS is 2022. Toyota's CEO, Jim Lentz, stated that he wants to bring these technologies to customers "sooner rather than later," noting the company's commitment to reducing the occurrence of preventable accidents.
AEB comes into play in two different systems under the Toyota Safety Sense umbrella, including the base Pre-collision System (PCS) and the next-level Pre-collision System with Vehicle and Pedestrian Detection. When a collision with a car or pedestrian appears imminent, these systems warn the driver using visual and audio signals. If action is not taken, AEB kicks in to assist the driver in mitigating or possibly avoiding a collision.
More details are expected at a later date regarding exactly which Toyota models and trim levels will come standard with automated braking. Make sure you subscribe to Toyota of Deerfield Beach's RSS feed if you don't want to miss any updates.