Hurricanes and vehicles do not tend to mix very well. If a hurricane heads your way, the best thing you can do for your vehicle is jump in it and drive far away. But, that leaves many families with a dilemma. Most have more than one vehicle. In a crisis, separating your family is not an attractive option.
When fleeing a natural disaster, most families choose to take their largest vehicle and leave the rest. You can do some things to protect your beloved roadster you left at home. If the worst occurs, you can protect your investment. Furthermore, you need to prepare and protect that large vehicle you plan to take when transporting your family to safety.
Check Your Windshield Wipers and Tires
When heading to safer ground, plan to drive through a lot of rain. Hurricanes send rain ahead, hits your area with rain and leaves rain behind after leaving to wreak havoc elsewhere. Your windshield remains a mess unless your wipers work overtime. The summer heat and UV rays cause pitting and disintegration within your wipers. Replace your wiper blades if you have had them very long or if they show signs of damage.
You rely on your vehicle's tires to roll until you reach safe ground. No matter when you last checked your tires, have your mechanic check them if possible. If your tires show excessive wear or need air, address it immediately. Your vehicle performs only as well as its tires. All the torque and power available does no good with a flat tire.
Keep Your Fuel Tank Full
Whenever a hurricane nears dry land, newscasters swap stories on-air about all the gas stations with no fuel. Even if your home is not in a hurricane's path, it might make a sharp turn anytime. Do not find yourself with a low fuel tank when a hurricane takes an unexpected change in course.
As a matter of course, your vehicle performs better with more fuel than less. It matters not that your tank is over half full. Fill your tank before storms head your way. Assume that all roads leading out of town are jammed and plan to be stuck in traffic for hours. Always keep your fuel tank full.
Document, Document, Document
Take photos of the inside and outside of all vehicles before a storm. If your car is hit by flying debris, you have proof the big dent is new. Any vehicles left behind in a storm may get damaged and any documentation you have will help your insurance claim.
Insurance, registration and proof of ownership should go in waterproof containers. Place those containers in zip locked bags for good measure. Lacking this paperwork will leave you hard pressed to show you owned a vehicle, much less had it registered and insured. State and local records are not exempt from flood damage. You cannot rely on anyone else for this documentation.
Do Not, Repeat, Do Not Drive into Water in the Road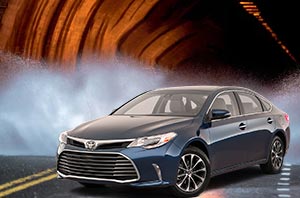 Countless drivers in New Orleans, Houston and other flooded regions assumed they were familiar with the flooded roads they entered. Those same drivers are the first to tell you never to assume a flooded road is familiar.
You have no low point of reference to determine water's height. Worse, you do not know how fast the flow of water might be. Do not be the nightly tragedy featured on the news. Walk away from your vehicle if there is no way around the water. It will give you a story to tell your grand-kids.
Get More Tips on This Topic
If you want more in-depth information about protecting your car during any bad storm, contact or visit Toyota of Dallas. Our friendly staff look forward to giving you more information and answering any questions you may have.