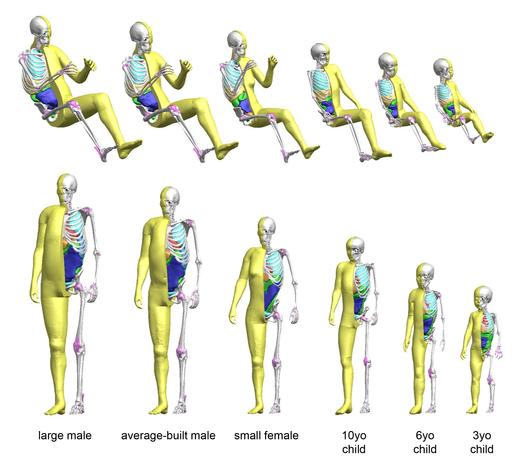 Toyota's Total Human Model for Safety (THUMS) technology gains new advancements that will aid the automaker in better protecting passengers of all sizes. The new virtual crash dummy software now includes digital models representing children ages 3, 6 and 10, so Toyota can better understand how youths are physically affected during collisions.
THUMS is an innovative system that enables users to assess what types of injuries might occur to the human body in the event of an accident, and therefore, enhance passenger protection devices to help improve safety. The technology is not only used by Toyota, but also by other outfits such as the National Association for Stock Car Auto Racing. NASCAR's use of it led to new seat shape regulations that help protect racecar drivers from rib injuries.
The virtual child models join the large male, average-built adult male and small female models that were already a part of the system; and with the expanded "family" of virtual dummies, a more thorough injury analysis is now possible.
Version 1 of THUMS was introduced in 2000 and the technology has continuously been refined ever since. Version 2 integrated faces and bone structure, while Version 3 debuted brain simulation. Following this, Version 4 incorporated organ placement and Version 5 added simulated musculature.
The child-spec models are the latest update and they were created as a result of collaboration with Wayne State University, the University of Michigan, and the Collaborative Safety Research Center located in the Toyota Technical Center in Ann Arbor, Michigan.