CONOMIA E CUIDADOS NA HORA CERTA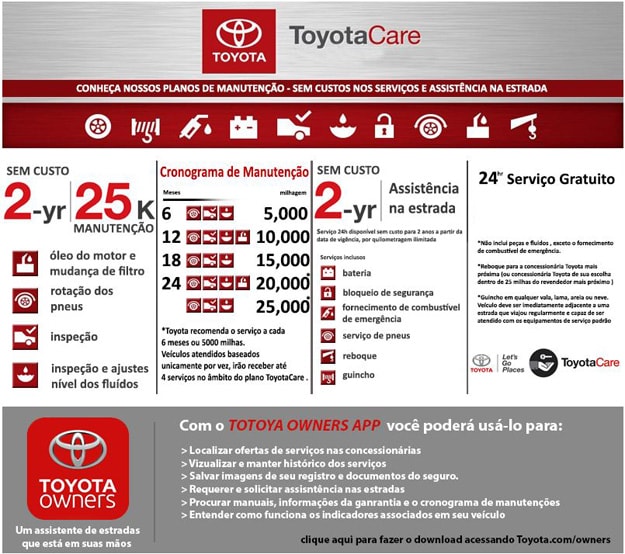 ECONOMIA E CUIDADOS NA HORA CERTA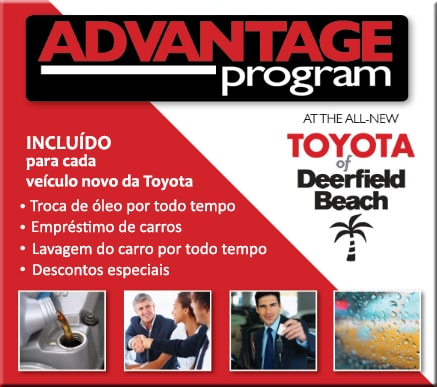 O que perguntam sobre o seu Advantage Program da Toyota of Deerfield Beach
* Quais seus veículos cobertos pelo Advantage Program?
R: Cada novo Toyota ou Scion, ou carro com certificado da Toyota, comprado ou alugado na Toyota de Deerfield Beachficará em plena cobertura do Advantage Program.
* Qual a data de término do Advantage Program?
R: O Advantage Program não tem uma data pré-determinada para término. Se você comprar um Toyota conosco, não haverá uma data de expiração.
* Como é feita a mudança de óleo?
R: Está incluso, a troca de óleo e filtro de óleo, em todo momento que estiver com o veículo compro na Toyota of Deerfiel Beach. A única exigência é que sejam executados os serviços recomendados de fábrica (informações no manual do proprietário). Estes serviços são realizados apenas na Toyota of Deerfield Beach, e são intransferíveis.
* Como funciona o desconto fidelidade $500,00?
R: Quando o veículo atinge 50.000 milhas, você receberá um cartão de desconto,que lhe dará até 15% de desconto, nos serviços futuros individuais.
* Quando você recebe um carro emprestado?
R: Você pode obter um carro emprestado a qualquer momento, para qualquer manutenção ou reparação de mais de U$300,00. Por favor, ligar para reservar o seu veículo emprestado quando você agendar o seu compromisso do serviço.
* Como fazer a lavagem de carro?
R: Será feita uma lavagem do carro apenas no exterior, as vezes que precisar.Durante o tempo em que estiver com o veículo comprado na Toyota of Deerfield Beach.
* O seu programa Way Advantage oferece cobertura adicional após o ToyotaCare expirar.Não haverá nenhum custo de manutenção abrangendo 2 anos ou 25.000 milhas (o que ocorrer primeiro) .
Veja a concessionária Toyota para mais detalhes e exclusões .Válido apenas nos EUA, Continental e Alasca . Os serviços incluem todos os itens de manutenção regularescom os intervalos de manutenção programada , conforme desrcito no manual do proprietário .A manutenção é válida na concessionária e não é transferível .