The 2012 Toyota Prius from Toyota of Deerfield Beach is the apotheosis of impassioned automotive craftsmanship built to fit the needs of Florida Toyota enthusiasts. Toyota of Deerfield Beach is proud to present the 4-door 2012 Toyota Prius Sedan. As your Deerfield Beach Toyota dealer, we hope you find our 2012 Toyota Prius reviews and research materials beneficial in finding the features, specifications and information you've been on the lookout for. View Toyota of Deerfield Beach's new lineup of 2012 Toyota Prius Sedans.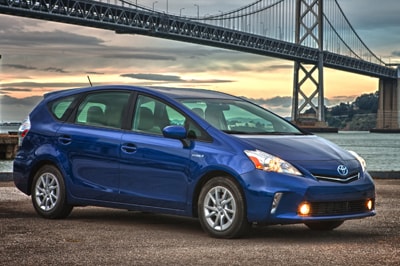 Toyota of Deerfield Beach presents the 2012 Toyota Prius Sedan
Consumers find that when they compare the 2012 Toyota Prius to other makes like the Chevrolet Volt, Nissan Leaf, Ford Fusion Hybrid and Hyundai Sonata Hybrid, the Toyota Prius sets itself apart as the most fun to drive. Check out our Quick List table below to see why!
The 2012 Toyota Prius has an starting MSRP of $26,400
The 2012 Toyota Prius gets 40 city / 44 highway MPG
The 2012 Toyota Prius goes from 0-60 MPH in 10.1 seconds
The 2012 Toyota Prius features 41.7 inches of legroom up front and 36 inches in back
The 2012 Toyota Prius features 38.6 inches of headroom in front and 37.6 inches in back
The 2012 Toyota Prius is 175.6 inches long, 68.7 inches wide and is 58.7 inches tall
The 2012 Toyota Prius weighs 3042 pounds and has a turning radius of 36 feet
We know you'll enjoy the Toyota Prius - visit Toyota of Deerfield Beach in Deerfield Beach today!
The 2012 Prius family has arrived at Toyota of Deerfield Beach! This year, the third-generation Prius Liftback has two new siblings: the all-new 2012 Toyota Prius V and Prius Plug-in. Toyota's "Econ-icon" set the mold for eco-friendly mobility when it first debuted in the '90s, and today it is the best-selling hybrid vehicle in the world. Just like their forebearer, the 2012 Prius V and Prius Plug-in are set to become icons of a new generation of green vehicles. Toyota is shaping the future of the electric-gas car with an exciting group of innovative and diverse hybrids that offer terrific fuel efficiency, tons of amenities and unsurpassed Toyota dependability. With three fierce contenders to deal with, the Chevrolet Volt, Nissan Leaf, Ford Fusion Hybrid and Hyundai Sonata Hybrid will be left on the lot. Toyota Prius reviews are raving about this trio of ultra low emissions vehicles - come check them out for yourself to see why!
In 1997, the Prius became the first mass-produced hybrid vehicle in the world. It was initially released in Japan and later made its way to the United States in August 2000. Toyota of Deerfield Beach was one of the first dealerships in the area to offer the 2001 Prius to local car shoppers. The awe-inspiringly fuel-efficient car featured an innovative all-aluminum, 1.5-liter VVT gasoline engine with 70 horsepower at 4,500 rpm and a 25-kilowatt battery pack that produced 34 horsepower. The "full hybrid" could operate in gas or electric mode, or both at any given time, and cutting-edge features like a regenerative braking system which charged the battery with kinetic energy generated during deceleration and braking impressed Deerfield Beach Toyota shoppers. With the introduction of the new Toyota Prius to the global market, a revolution in hybrid car technology had sprouted and would grow wildly over the next decade.
The Prius is making history once more with all-new Prius V and Plug-in models, extending its family of elite hybrid vehicles and giving Deerfield Beach Toyota shoppers even more "green" car options. Each Prius model is offered in several trims for the new model year. The third-gen Prius Liftback comes in Two, Three, Four and Five trim levels. Its extended electric range variant, the 2012 Prius Plug-in Hybrid, is available in Base and Advanced trims. Following this is the all-new wagon-based 2012 Prius V, which comes in Two, Three and Five trim levels. Visit Toyota of Deerfield Beach today to find these illustrious hybrid cars in beautiful colors like Blue Ribbon, Barcelona Red, Blizzard Pearl, Clearwater Blue and Sea Glass Pearl.
All 2012 Toyota Prius models and trims at Toyota of Deerfield Beach feature versions of an advanced Hybrid Synergy Drive system that utilizes a 1.8-liter Atkinson-cycle, four-cylinder engine and electric motor. This gas-electric powertrain has a combined power output of 134 horsepower. The Prius V station wagon delivers class-leading fuel economy with 44 mpg city and 40 mpg highway. The Prius Plug-in has stellar efficiency scores as well, getting up to 49 mpg on the highway. Also boasting exceptional fuel economy ratings, the new 2012 Prius Liftback continues to hold the record as the most fuel-efficient gas-powered passenger car in the U.S. with an average 50 mpg fuel economy rating.
Visit Toyota of Deerfield Beach today to see the hybrid that pioneered the green-mobility segment and changed the face of the entire automotive industry. The new 2012 Toyota Prius Liftback returns with revised styling and advanced infotainment features. Various trims include features like Bluetooth, Sirius Satellite radio, heated front seats, leather upholstery, a navigation system and much more. The Liftback may also be equipped with Toyota's Entune, a unique multimedia system with voice recognition technology, concierge services and tons of useful functions that Deerfield Beach Toyota shoppers will love.
The all-new 2012 Prius Plug-in features many of the same features as the Liftback model, including cruise control, full power accessories, keyless ignition/entry, automatic headlights, a tilt/telescoping steering wheel, back-up camera and more. The Plug-in differentiates itself from the original Prius by offering Deerfield Beach Toyota shoppers extended electric vehicle (EV) driving and more affordable pricing than pure electric or range-extender type vehicles. Deerfield Beach drivers will also benefit from being able to drive up to 15 miles on battery power alone, a characteristic that is unique to the Prius Plug-in.
The exceptional new 2012 Toyota Prius V gives Deerfield Beach car buyers a larger, more family-friendly option to choose from. The V station wagon is spacious and comfortable, with generous cargo and passenger room. Its feature-laden interior is also serenely quiet, diminishing outside clamor and road noise. Toyota of Deerfield Beach shoppers will enjoy amenities like automatic climate control, an auto-dimming rearview mirror, automatic LED headlights, an iPod/USB audio interface and much more!
Deerfield Beach Toyota shoppers can also look forward to a future model known as the Prius C. The C will be specifically designed for urban dwellers who have to deal with slow stop-and-go city traffic. It will be a "junior" version of the Prius Liftback, offering a more compact size, lower price tag and greater fuel efficiency.
Whether you are looking for a Certified Pre-owned Prius or just a great Toyota Prius deal in Deerfield Beach, look no further than Toyota of Deerfield Beach. Our selection of new and used Toyota Prius cars makes choosing the right vehicle easy and hassle-free.
Owning a Toyota Prius from Toyota of Deerfield Beach makes Florida driving easy, safe and exciting - all at the same time! This is why:
Toyota of Deerfield Beach has a extensive collection of 2012 Toyota Prius Sedans with standard Toyota safety features like anti-lock brakes, traction control, driver airbags, passenger airbags, side airbags and more, making the 2012 Prius an NHTSA and IIHS favorite. In addition to these safety features, the 2012 Toyota Prius can adequately seat up to 5 passengers. Trunk space with Toyota is never a worry; the Prius can hold up to 21.6 cubic feet of your luggage, ensuring that your next drive is hassle-free. To top it all off, the 2012 Toyota Prius includes an exceptional list of comfort and convenience highlights like powered windows, mirrors, doors and locks, climate control, AC and optional hands-free phone and navigation systems. Take a test drive at Toyota of Deerfield Beach today and experience the Toyota Prius for yourself.
The Toyota manufacturer's warranty covers the Prius for manufacturing defects and has a 3 years / 36,000 miles Toyota warranty. Toyota has worked for years to minimize its environmental impact; as a result, the Prius's carbon footprint is minimal. Not surprisingly, with all of the Prius's advantages, this amazing Toyota Sedan retains a high percentage of its value at 3 years and 36,000 miles, which makes the Toyota Prius a great used buy! When seeking a safe, stylish and economical Sedan, Deerfield Beach Toyota enthusiasts should head to Toyota of Deerfield Beach, located at 1441 South Federal Highway in Deerfield Beach, FL
Toyota Prius service information for Deerfield Beach
Toyota Prius lessees and owners in Deerfield Beach have recognized that Toyota of Deerfield Beach at 1441 South Federal Highway in Deerfield Beach is the very best choice for Prius warranty work, regular maintenance, inspections and mechanical repairs. At Toyota of Deerfield Beach, Certified Toyota Technicians trained in the very latest corrective and diagnostic techniques work for one thing - your approval. Whether it's time for your Toyota to have an oil change, brake pad replacement, or simply undergo Prius Scheduled Maintenance, Toyota of Deerfield Beach is your first choice. Our Certified Toyota Technicians also complete specialty jobs and repairs. Toyota of Deerfield Beach is the smartest choice in Deerfield Beach for fast, considerate and professional Toyota Service of all kinds.
If you'd like to make an appointment to have your Prius serviced, click the link or just give us a call. Visit us today!