2013 Corolla Research and Review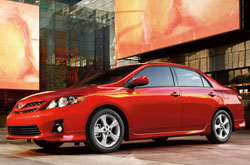 Go ahead and scroll down below the video to begin learning more about the latest version of the Toyota Corolla. Stop worring about your next Toyota purchase; look to the foremost Corolla franchise in Deerfield Beach, FL for well researched reviews authored by automotive enthusiasts. We're your Toyota Corolla dealer; this article will help you learn everything you need to know about the Toyota Corolla in Deerfield Beach, FL. Read on to see if the 2013 Corolla should be parked outside your home.
360 Degree Tour of the Toyota Corolla sedan
Quick Stats for the Toyota Corolla
By examining the 2013 Toyota Corolla against the 2013 Ford Focus, Chevy Cruze and the Honda Civic, and you can realize that the Corolla scores higher those autos in loads zones. Look through the hightlights below.
2013 Toyota Corolla MPG: 27 city / 34 highway
2013 Toyota Corolla Cargo Space: 12.3 cubic feet
2013 Toyota Corolla 0-60 MPH in 9.1 seconds
2013 Toyota Corolla Colors: Tropical Sea, Black Sand Pearl, Barcelona Red, etc...
2013 Toyota Corolla Body Style(s): sedan
2013 Toyota Corolla Seats: 5 passengers
2013 Toyota Corolla MSRP: $16,230
Learn About the 2013 Toyota Corolla's New Features
Get Under the Hood: Engine & Powertrain Specs for the 2013 Corolla
Toyota of Deerfield Beach's Service Center Is Here for You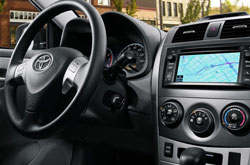 Toyota Corolla owners won't get the same fantastic factory-trained Toyota mechanics and bona fide Toyota parts at a conglomerate service company. But at our Deerfield Beach, FL dealership you'll benefit from this every day, along with the tranquility that comes with receiving a 12-month service warranty. Your Corolla will run smooth for years with aid from the professionals at our Deerfield Beach, FL service center. We handle a large array of jobs with ease, including Toyota windshield wiper replacement, tire alignment and replacement and, of course, difficult tasks like muffler repair - and this is just a chunk of what we can manage. For both tough and straightforward services, our Deerfield Beach, FL car repair center takes care of everything; also Toyota of Deerfield Beach offers inexpensive maintenance pricing. Find unbelievable service coupons at Toyota of Deerfield Beach by clicking below this text!