Quality Toyota Tacoma Research From Toyota of Deerfield Beach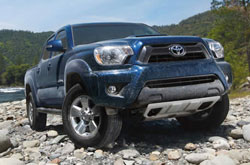 Please look below the video to begin reading a full review of the 2013 Toyota Tacoma. All Toyota dealers in Deerfield Beach, FL aren't the same. At Toyota of Deerfield Beach, we feel it's our obligation to supply customers with quality Toyota reviews that set us apart from the typical dealer. Make educated decisions when it comes to your next auto purchase, don't take guesses! Each passage is full to the hilt with information and vehicle features in way that's easy to understand. As always, Toyota of Deerfield Beach is available seven days a week to answer any questions you might have. Don't hesitate to call and speak with a representative.
Tacoma Video Review - Specs, Features & More
2013 Tacoma vs the Competition - Compare Features & Specs
Compare the 2013 Toyota Tacoma alongside vehicles like the 2013 Honda Ridgeline, Nissan Frontier, Ford Ranger, Dodge Dakota and the Chevrolet Colorado, and you'll discover that the Tacoma trumps the competition in loads areas. View our Quick List below to find out why!
2013 Toyota Tacoma Seats: 3 passengers
2013 Toyota Tacoma 0-60 MPH in 8.8 seconds
2013 Toyota Tacoma Cargo Space: truck bed cubic feet
2013 Toyota Tacoma Body Style(s): Truck
2013 Toyota Tacoma Colors: Nautical Blue, Silver Streak Mica, Barcelona Red, etc...
2013 Toyota Tacoma MSRP: $17,525
2013 Toyota Tacoma MPG: 21 city / 25 highway
Learn About the 2013 Toyota Tacoma's New Features
Peace of Mind Comes Built into the 2013 Toyota Tacoma
Our Toyota Auto Repair Center: Helping You Maintain Your Investment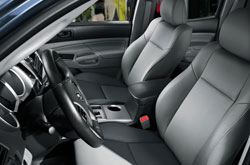 No independent car repair sites in Deerfield Beach, FL, Florida offer Toyota of Deerfield Beach's phenomenal combination of certified Toyota Tacoma service techs, year warranties on all services and Toyota OEM parts. Toyota of Deerfield Beach's qualified mechanics will keep your Tacoma in excellent physical shape. Just a small percentage of the services our Toyota repair craftsmen do includes windshield wiper replacement, transmission repair and easy simple multi-point inspections. For both difficult and easy to complete services, our Deerfield Beach, FL car repair center does everything; additionally Toyota of Deerfield Beach offers affordable maintenance pricing. Click the next link to be taken to to Toyota of Deerfield Beach's service coupons.