Toyota Dealership in Deerfield Beach, FL Reviews the 2013 Tundra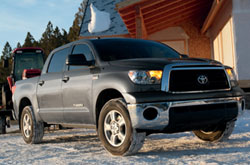 We take the time to write research and reviews on the Toyota Tundra, because we know your next Tundra purchase is important. We take our mission to equip the most outstanding reviews created by Toyota automotive writers - it's just another thing that makes us the premier Toyota franchise in Deerfield Beach, FL. To make familiar decisions when it comes to your next Toyota Tundra purchase, don't guess! Each paragraph is packed with information and Tundra features in way that's easy to understand. Is the Toyota Tundra right for you? Read on and find out!
Take a Look inside the Toyota Tundra
2013 Toyota Tundra Quick Specs
By examining the 2013 Toyota Tundra alongside the 2013 Chevrolet Silverado, Dodge Ram, Ford F 150 and the GMC Sierra, and you can discover that the Tundra outshines those autos in many zones. Scan the hightlights below.
2013 Toyota Tundra MPG: 16 city / 20 highway
2013 Toyota Tundra 0-60 MPH in 6.4 seconds
2013 Toyota Tundra Cargo Space: pickup cubic feet
2013 Toyota Tundra Seats: 6 passengers
2013 Toyota Tundra Colors: Radiant Red, Silver Sky, Spruce Mica, etc...
2013 Toyota Tundra Body Style(s): Truck
2013 Toyota Tundra MSRP: $25,355
Our Toyota Service Center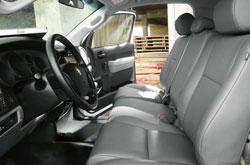 Get a long warranty on repairs - plus access to authentic Toyota parts and spectacular Toyota technicians - at your premier Deerfield Beach, FL area Toyota repair center. Even the quality Toyotas in Deerfield Beach, FL can take a thrashing, so turn to the Toyota service and autp repair wizards in Deerfield Beach, FL at Toyota of Deerfield Beach. Whether you're searching for cheap electronics repair or less tricky work like front and rear brake pad replacement or routine oil changes, we'll take care of it! And these things are only a portion of the work we do. Toyota of Deerfield Beach's got your back for all Toyota Tundra maintenances in Deerfield Beach, FL, including straightforward factory recommended services. Click underneath this sentence to look up the most up to date coupons with insane savings!