Quality Toyota Prius Research From Toyota of Deerfield Beach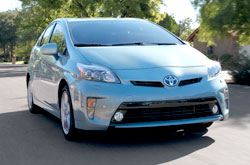 2015 Toyota Prius reviews agree it is still the most economical gas hybrid car sold in the US. Years after the Prius was introduced, other makers still have not even come close to catching up with Prius in fuel economy. Toyota got it right with its Hybrid Synergy Drive system. Bottom line: Toyota has more experience building hybrids than any other manufacturer. They set the bar high and there the bar remains.
Yet, an innovator like Toyota does not rest on its laurels. In a bid to make the best even better, they offer the 2015 Prius in four flavors this year: The standard liftback, the Prius V wagon, the Prius C subcompact, and a plug-in hybrid version of the liftback.
As a design, the Prius is virtually iconic. Check out the 2015 Prius in Deerfield Beach. Notice the high, vertical tail, domed roof, and smooth front are all aimed at reducing aerodynamic drag to wring every last MPG from each tank of gasoline. Except for some trim differences and a charge-port door on the right rear fender, the plug-in hybrid model looks just like the standard Prius.
The Prius V is a modern take on a family wagon. Pop open the rear hatch-style door and you'll unveil a full 34.3 cubic feet of cargo space. That's more than you'll find in many small SUVs. The Prius V has a wide array of seating configurations that let you optimize your wagon for carrying cargo or people. You'll also find several smaller storage compartments to secure and stow phones, flashlights, first aid kits, snackies and the kid's favorite huggables.
The Prius C is a compact hatchback and the smallest member of the Prius family. With great fuel economy and a very small footprint, this little Prius is a natural for the urban environment. Lots of available tech options keep it fun and safe.
With so many options available there is a Prius for every taste. Pile on as much as you want. You'll get it back in gas savings and laugh your way past the pumps. See the 2015 Toyota Prius in Deerfield Beach at Toyota of Deerfield Beach, or continue reading our 2015 Toyota Prius review below.