Toyota of Deerfield Beach Shows Off the New Toyota Venza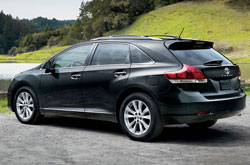 2015 Toyota Venza reviews say it is simply one of the more practical, carlike mid-size vehicles that takes the best attributes of a wagon and an SUV and blends them into something new and neat-looking. It really is different than anything else out there. Looking like a grown-up version of a hatchback, the Venza provides the extra room and ride height needed for daily comfort and occasional adventures.
Take a look at a 2015 Toyota Venza in Deerfield Beach. The interior is styled with smooth surfaces and curved lines. A center stack splits the front row, while woodgrain trim and subtle brightwork accents lend a sharp and sophisticated look. A wide center console provides ample elbow room for front passenger and driver. The Venza's front and rear seat height for and the large doors make entry and exit equally easy for all passengers. The seats are well padded and plush enough to provide a great deal of comfort. Head and leg room are ample all around.
The Venza offers a choice of two engines, either of which is available with front- or all-wheel drive. Choose from a fuel efficient 182-horsepower, 2.4-liter four-cylinder, or the smooth powerful feel of the 268-horsepower, 3.5-liter V-6. All V-6 Venzas now come standard with a towing package, and can pull up to 3,500 pounds.
Test-drive a 2015 Toyota Venza in Deerfield Beach, and you'll discover either engine delivers competent, comfortable handling and acceleration. The soft suspension assures a nice ride and steering is almost effortless.
With a strong complement of standard safety equipment, including seven airbags, electronic stability control, and anti-lock brakes, the Venza earns top marks from both the IIHS and NHTSA for safety and occupant protection.
We think you'll agree the Venza is uniquely positioned as the perfect vehicle for travelers looking for the interior space and muscle of an SUV without the bulky proportions or harsh ride. Learn more as our 2015 Toyota Venza review continues below.