About Prius Reviews for 2013 from Toyota of Deerfield Beach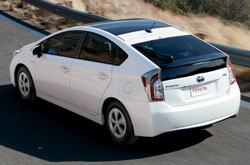 Go ahead and scroll down below the video to begin learning more about the latest version of the Toyota Prius. Don't stress out over your next purchase; look to the prominent Toyota retailer in Deerfield Beach, FL for thoroughly researched reviews written by industry specialists. Loaded with worthwhile specs and information, each article gives you complete access to all the Toyota Prius has to offer. What are you waiting for? Watch the video below or start reading the 2013 Prius review below!
Find a new 2013 Toyota Prius in Deerfield Beach, FL, Florida
360 Degree Tour of the Toyota Prius Sedan
Quick Introduction to the New Toyota Prius in Deerfield Beach, FL
2013 Prius vs the Competition - Compare Features & Specs
When comparing the 2013 Toyota Prius head-to-head with the 2013 Chevrolet Volt, Nissan Leaf, Ford Fusion Hybrid and the Honda Insight Hybrid, and you'll see that the Prius trumps those autos in quite a few aspects. Check out just a few of the reasons below.
2013 Toyota Prius Seats: 5 passengers
2013 Toyota Prius 0-60 MPH in 10.1 seconds
2013 Toyota Prius Colors: Blizzard Pearl, Nautical Blue, Barcelona Red, etc...
2013 Toyota Prius Cargo Space: 21.6 cubic feet
2013 Toyota Prius MPG: 51 city / 48 highway
2013 Toyota Prius Body Style(s): Sedan
2013 Toyota Prius MSRP: $23,215
Trim Levels & Amenities for Deerfield Beach, FL Toyota Prius Drivers
Prius Engine Options for Deerfield Beach, FL Toyota Shoppers
2013 Toyota Prius Safety Features & Warranty
Toyota of Deerfield Beach's Service Center Is Here for You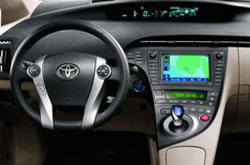 Toyota of Deerfield Beach's car repair veterans have served Deerfield Beach, FL for years with fantastic workmanship and reliable Toyota parts. The old pros at our Florida Toyota service center can be trusted to keep your Prius in staunch working order for years to come. From difficult tasks like muffler repair to less time consuming work like timing belt replacement and simple standard filter and oil changes, our Toyota repair veterans do it all. For both hard to do and straightforward services, our Deerfield Beach, FL car repair center covers everything; additionally Toyota of Deerfield Beach offers inexpensive maintenance pricing. Get specials on our website. You can find and print discounts by clicking the subsequent line of text.